About Us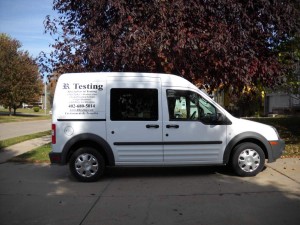 Phone number – 402-680-5014             14051 Gertrude Cir. Omaha NE 68138
At R testing we are committed to offering you tightness testing at lower overall costs and assurances that will instill confidence between you and us.
At R Testing we specialize in testing the tightness of your storage tanks, delivery lines, sensors, vapor recovery systems,  leak detectors, over-fill alarms and over-fill sumps.
Utilizing the advanced technologies of acoustical reception and advanced interpretational computer programs we can assure of a tight system or detect leaks in a faster time frame and no impact to the surrounding environment.
At R Testing we do not require you to over fill your tanks for testing and in most circumstances we only require you to shut down during the test cycle, approximately 2 hours or less. Approved to conduct testing in Nebraska and Iowa.
It is our Mission to see that you are:
Treated fairly and with respect.
Provided with accurate test results in an expedient manner.
Provided with unbiased options for any repairs necessary to tanks, lines or dispensers.
We promise to:
Utilize advanced methods for testing and analyzing data from those tests.
Provide you with 3rd Party Certifications for all your testing requirements.
Guarantee our work and our relationship with you.
Team:
Robert (Bob) Rueth 
Bob brings with him in his new endeavor 24 years of experiences in petroleum related industries.During this time Bob started his career at Neuman Equipment for several years in the parts and service department. He then moved to K and Associates of Denver. Bob served as the Regional Sales Manager with a territory covering Nebraska, Iowa, the Dakotas, Kansas and Missouri. Bob later joined Yant Equipment Omaha. After a stay at the Omaha branch Bob was asked to take over the Lincoln division. After 7 successful years in Lincoln Bob decided it was time to look at becoming his own leader. Always enjoying the businesses associated with refined petroleum and the friendships he has made over the years, his decision was easily swayed to stay in this field. After some research Bob felt he could be successful in the business of integrity testing for underground storage tanks and lines. Following this path he could maintain his professional friendships while offering a service that was beneficial to his clients and the environment.
What sets us apart from other testing companies is we are a true 3rd party certifying company; we have no partnerships or "sole supplier agreement" with the repair and installation companies. We work for you and with you to resolve any issues you may have.